VGreen - Honoring the Top 10 Most Trusted Products in Vietnam in 2021
VGreen Group Joint Stock Company was honored with Top 10 Most Trusted Products in Vietnam - Agricultural Products, Food and Beverage Industry in 2021.
The award is voted by consumers and organized by Vietnam Economic Review - VnEconomy, to honor organizations, companies and businesses with quality and reputable products and services.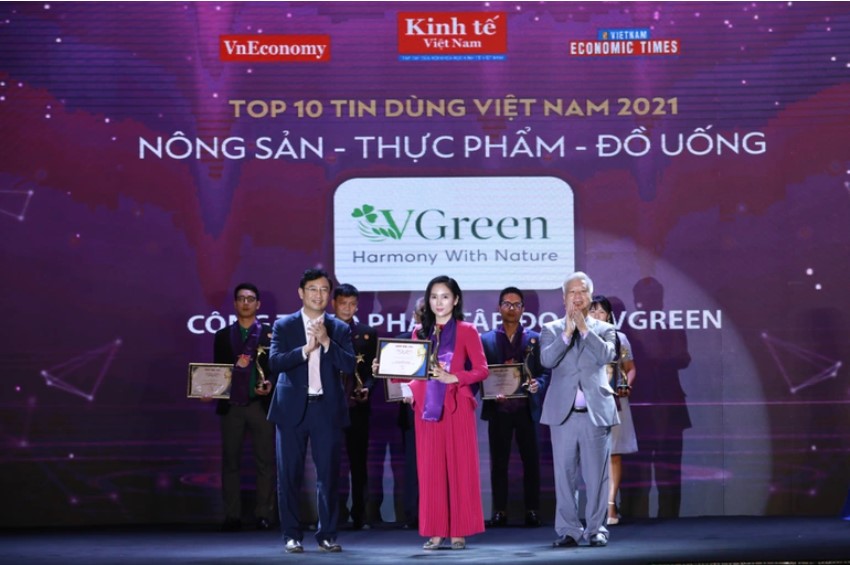 VGreen was honored as Top 10 Most Trusted Products in Vietnam 2021 - Agricultural Products, Food and Beverage Industry.
On the afternoon of December 18, 2021, the ceremony to announce & honor the Top 10 Trusted Product and Service Industries voted by consumers in 2021 was successfully held. The theme at the heart of this year's program is "Overcoming the Storm - Creating to Adapt". Also, for the first time, VGreen has been named one of the Top 10 Trusted Products and Services in Vietnam 2021- Agricultural products, Food and Beverages.
The product honored in this year's program of VGreen is VKombucha, produced and distributed by VGreen Group Joint Stock Company. According to the traditional Kombucha brewing recipe, Vkombucha is naturally fermented with premium Thai Nguyen tea and specialty fresh tropical fruits from Vietnam. VGreen's Kombucha tea is certified as "Typical product of science and technology application of Thai Nguyen province". The product is completely natural, does not use preservatives, flavorings, towards the goal of becoming a "national drink" good for the health of the community, and is suitable to replace carbonated drinks. Currently, Vkombucha is distributed with diverse lines such as: Fresh Chill Kombucha, Fruit Kombucha, Kombucha Florist, Her'b kombucha, Hey Kombucha, True Kombucha...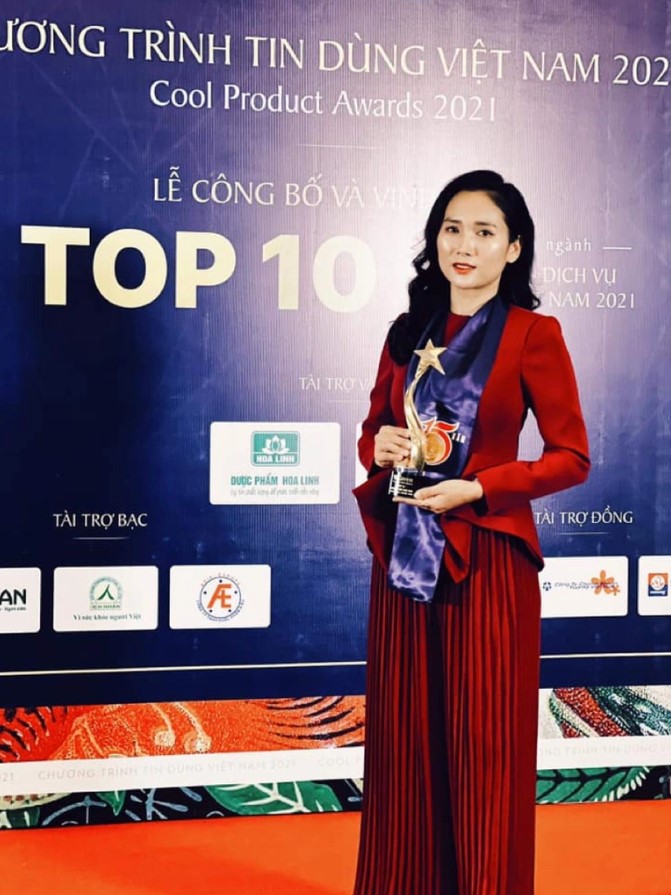 Ms. Tran Thanh Viet - Founder of VGreen Group Joint Stock Company, representative to receive the trophy and certificate of merit Top 10 Trusted Products and Services in Vietnam 2021.
VGreen - The story of a Green Vietnam
From the successful experience with producing pure fermented grape wine and juice in Binh Thuan in 2015, VGreen has gained great popularity as a pioneer in the production of Kombucha Tea Drinks, developed based on the provincial scientific research project: "Research to perfect the technological process of production and processing of fermented beverage from Thai Nguyen tea - Kombucha tea", which is researched and implemented by VGreen Group in collaboration with Thai Nguyen Department of Science and Technology.
Loyal to the core value of "Healthy with nature", VGreen prioritizes quality, safety, sustainable efficiency, and environmental friendliness in the production and inspection process, with strict requirements in the production and inspection process, towards the standards of Bio-Organic Technology, BioTech clean raw materials, and the Go Green model - closed supply chain, bringing delicious, nutritious, and natural drinks, while contributing to honoring Vietnamese agricultural products and raising the international level.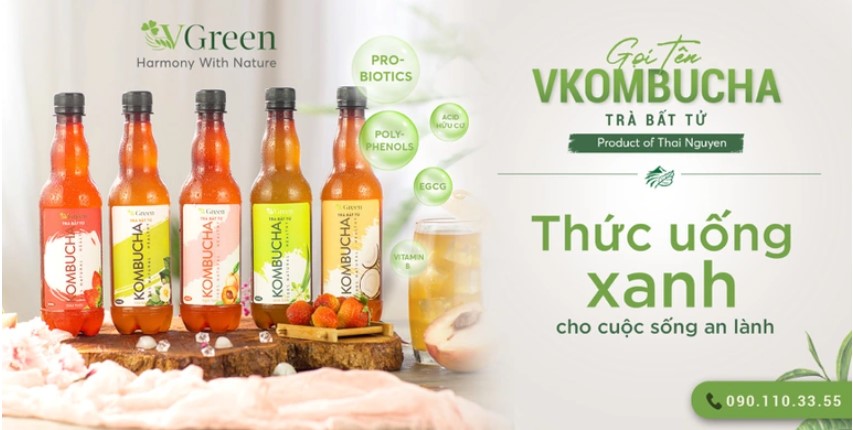 Kombucha products - Top 10 Vietnamese Trusted Products 2021
Pioneering Kombucha Tea Processing Factory in Vietnam
After successfully researching and testing VKombucha products, VGreen Group has been investing and building a Kombucha Tea Processing and Production Factory - part of the project "Concentrating production model of safe tea, enhancing added value and sustainable development in the period of 2020 - 2025 in Thai Nguyen province". In addition to the goal of manufacturing, processing and consuming tea products, creating the strength to support interactions in the value chain, the project also aims to build a tea material area in the direction of high-tech production, specialized cultivation, focusing on modernity and organic tea production, enhancing the brand name of Thai Nguyen tea. With an area of more than 3 hectares in Dong Hy district, Thai Nguyen province, and a total initial investment of more than VND 30 billion, VKombucha factory promises to operate with a capacity of up to 200,000 liters/month (equivalent to consumption of about 2500 kg - 3000 kg of dry black tea/month) to meet the needs of domestic customers as well as promote international trade.
Consumer trust and votes for VKombucha products in particular and VGreen in general are the motivation for businesses to research and develop various quality natural drinks, contribute to improving people's health, and create a green - healthy ecosystem for the entire community.
Source: https://afamily.vn/vgreen-vinh-danh-top-10-san-pham-tin-dung-viet-nam-nam-2021-20211221230628035.chn
[×]
ĐĂNG KÝ NHẬN ƯU ĐÃI
Nhận các ưu đãi độc quyền, cập nhật mới nhất và bí quyết sống khỏe,... từ VGreen.