VGreen launches VKombucha fermented tea product - Thai Nguyen brand
VKombucha - fermented tea made from Thai Nguyen black tea, is a cooperation product between Thai Nguyen Department of Science and Technology and VGreen Group.
On the morning of April 28, Thai Nguyen Department of Science and Technology collaborated with VGreen Group (Hanoi) to organize the launch of VKombucha - Thai Nguyen brand fermented tea and the opening of Kombucha House showroom.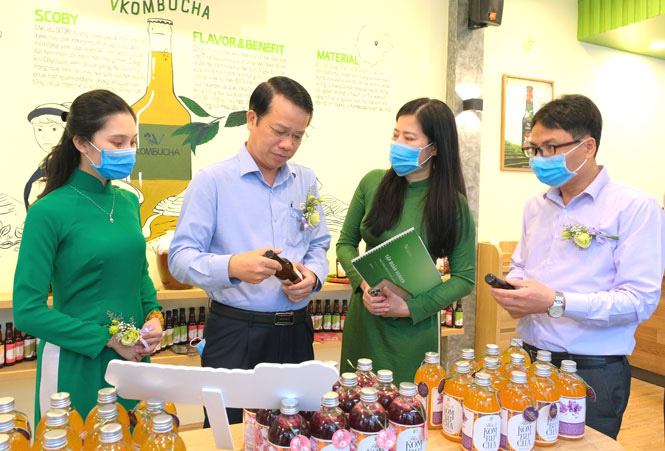 Leaders of Thai Nguyen province visit the booth of fermented tea products VKombucha (Photo: Lang Khoa)
In 2020, VGreen Group and Thai Nguyen Department of Science and Technology successfully implemented a provincial scientific research project: "Research to perfect the technological process of production and processing of fermented beverages from Thai Nguyen tea".
Accordingly, VKombucha is a fermented tea made from premium Thai Nguyen black tea with 100% natural ingredients, including 15 flavors; fresh fruits and herbs are brewed with Scoby yeast according to Vgreen Group's exclusive Kombucha formula.
Currently, VGreen Group has been investing over 30 billion VND to construct a 3ha raw material area and VKombucha factory in Dong Hy district.
The launch of VKombucha fermented tea - Thai Nguyen brand will contribute to spreading the brand, increasing economic value, and strengthening the position of Thai Nguyen tea in the domestic market, as well as promoting international trade and enhancing the value of Vietnamese agricultural products.
Source: https://etime.danviet.vn/vgreen-ra-mat-san-pham-tra-len-men-vkombucha-thuong-hieu-thai-nguyen-20210428153552473.htm
[×]
ĐĂNG KÝ NHẬN ƯU ĐÃI
Nhận các ưu đãi độc quyền, cập nhật mới nhất và bí quyết sống khỏe,... từ VGreen.