VGREEN CEO TRAN THANH VIET: SUCCESSFUL STARTUP FROM "MADE IN VIETNAM" FERMENTED TEA
Starting a business from regional specialties
While still in school, girl Tran Thanh Viet (Hanoi City) intends to do desired jobs and aspires to deliver to our country market high quality agricultural products that are healthy for physical health and are wholly derived from nature. Ms. Tran Thanh Viet has "targeted" two areas of clean agricultural growth (green ecotourism clean agriculture, organic food...) and a chain of beauty and care services taking the lead from the start. Despite numerous hardships and challenges, businesswoman Tran Thanh Viet has achieved great success on her entrepreneurial journey path. Spending a lot of time enjoying and learning from French experts, Ms. Tran Thanh Viet pioneered the production of "made in Vietnam" fermented juice products, raising the bar for Vietnamese agricultural products. In 2006, Viet Green Import-Export and Trading Joint Stock Company (VGreen) was established and VGreen CEO Tran Thanh Viet is officially the company's Chairman of the Board of Directors, a significant milestone in her career. VGreen was born as a pioneer in the production of drinks made from famous tropical monsoon specialties and Vietnamese green tea. Values create uniqueness, VGreen adheres to the principle of research and development (R&D) based on three strengths: clean, natural, healthy products, and honoring Vietnamese agricultural products.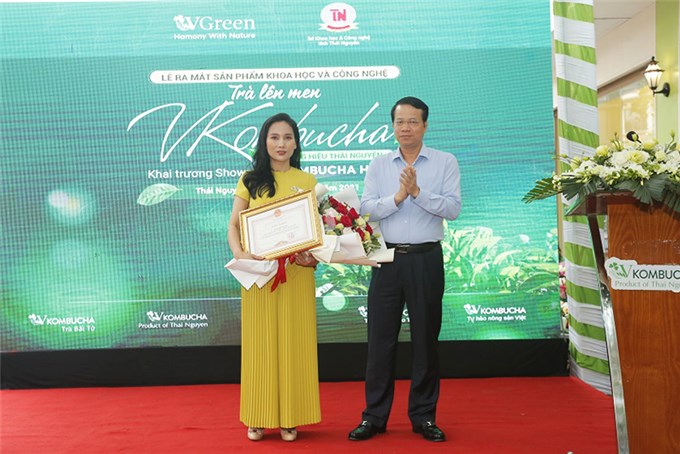 VGreen CEO Tran Thanh Viet received the Certificate of Merit from Thai Nguyen province with the topic "Research to perfect the technological process of production and processing of fermented beverage from Thai Nguyen tea - Kombucha tea".
"VGreen continuously completes the mission that the business has created from the start to bring "green drink for a healthy, natural life". That is, VGreen produces beverage products to replace contaminated chemical drinks in the family with safe and healthy natural-source beverages. In particular, VGreen prioritizes processing and producing drinks from famous local agricultural products and specialties in order to honor Vietnamese agricultural products, assist products processed from local agricultural products to have a high market share in the domestic market as well as prepare for marketing to the international market," said CEO VGreen.
VGreen's beverage products are produced according to the plan "Honor our country's agricultural products through a closed scale from capital contribution to the area of ​​materials - R&D - production - distribution" appeared on the market from last year to present. In 2018, VGreen pioneered to complete the solution to produce naturally fermented tropical monsoon fruit juice (cider), from our country's fruits such as green grapes, dragon fruit, pineapple, myrtle, litchi... "Thanks to the OCOP Real Estate project, each district and each commune has a clean agricultural product, we have a map of famous agricultural products and specialties of the provinces and towns. From there, we select products that can be completely processed into drinks that are beneficial to physical health and nature. VGreen has been working hard to develop various areas of clean raw materials, aiding farmers' input resources to be cultivated cleanly, and raising the value of agricultural products, ensuring farmers avoid the hazards of season devaluation."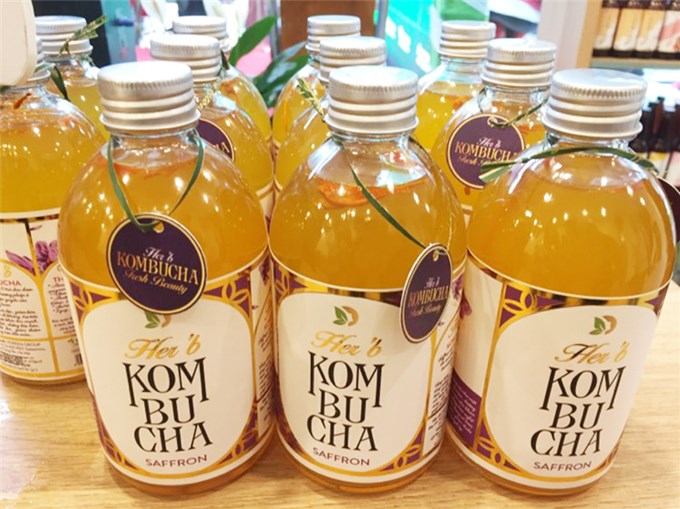 Bringing the "breath of Vietnamese land" to the international market
With the plan, wherever there are famous raw materials and specialties, VGreen will go there to create products with "breath of Vietnamese land". Therefore, in 2020, VGreen signed a research and investigation cooperation agreement with the Department of Science and Technology of Thai Nguyen province, completing the project "Research and complete the process of advanced technology for production and processing of fermented beverage from Thai Nguyen tea - Kombucha tea".
Subject leader Tran Thanh Viet (CEO of VGreen) shared that during the research, experts found that the high theanine active ingredient in Thai Nguyen tea helps to alleviate stress, preserve the brain and heart… Tea grown in other localities contains 30-40 times less theanine than Thai Nguyen tea. Up to now, Vkombucha Thai Nguyen tea brand has developed into 15 types of drinks with different flavors. The product has received a lot of positive feedback about the quality from consumers.
"We have our own special skills in terms of investigation and research, optimizing solutions, coming up with formulas, methods of preserving and protecting products in our own way, without moving in the direction of chemistry. The main secret is how to get a recipe for tea, yeast, and yeast protection that is still active and beneficial for the intestines. Especially when fermented Kombucha products will neutralize all other toxins while retaining nutritional value. In order to preserve the deliciousness and the beneficial substances of this product, we have to manufacture this product in a semi-industrial way. That is, we put steps such as bottling, cleaning, disinfecting, and packing into the production line. As for product incubation, we still have to do it manually," said VGreen CEO Tran Thanh Viet.
[×]
ĐĂNG KÝ NHẬN ƯU ĐÃI
Nhận các ưu đãi độc quyền, cập nhật mới nhất và bí quyết sống khỏe,... từ VGreen.